Roof Replacement and Roof Repair
Missouri roofing contractor
Your roof protects your home from the outside elements, so it's important to make sure that it stays well-maintained. CheckMark Construction & Roofing is your local expert for roof repair and roof replacement in Missouri. No matter how large or small the roof damage, we have the solution.
At CheckMark Construction & Roofing, we pride ourselves on using high-quality roofing materials to ensure both lasting durability and a stylish appearance. You want your roof to be weatherproof and sturdy, but the right kind of roof can also boost your home's curb appeal and property value. If you're ready to upgrade your home with roof repairs or a roof replacement, contact the roofing professionals at CheckMark Construction & Roofing today!
---
We have roof repair solutions for all types of roof damage
When your roof is showing signs of damage, no matter how large or small, it's important to call in a professional roofer to assess the extent of the roofing problem and determine the best solution. The sooner you take care of any roof repairs, the better, as roof damage will only spread and get worse if left unfixed.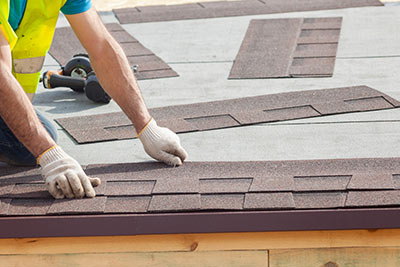 CheckMark Construction & Roofing can help with fast, effective roof repairs for every kind of roofing issue. Typical reasons for roof repairs include:
Roof leaks causing water damage on interior ceilings and walls
General wear and tear on your roof
Storm and wind damage, or the impact of a fallen object
A roof deck that is sagging
Curling, cracked, or missing shingles
Stains or mold growth on shingles
Weather is responsible for many roofing problems. However, pests and general wear and tear can also take their toll so even if you haven't had a storm lately your roof may still be damage. Our team of experienced roofing experts can carefully inspect your roof, diagnose any problems, and suggest the solution that will work best for your needs.
Owens Corning Roofing Options
Owens Corning offers a wide variety of shingle options, all of which meet the highest standards of quality, durability, and appearance. The three main shingle categories are architectural, specialty, and traditional shingles. Architectural shingles are available in many lines, including TruDefinition ® Duration ® Shingles with patented SureNail ® Technology and Oakridge ® Shingles. Similarly, specialty shingles include Berkshire ® Collection Shingles, Duration ® Premium Cool Shingles, TruDefinition ® Duration Storm ® Impact Resistant Shingles, Woodmoor ® Shingles and Woodcrest ® Shingles.
Benefits of Owens Corning ® shingles:
A variety of color choices
Energy efficient options
Extensive warranties
Strong and durable
Boost your home's weatherproofing with a roof replacement
Our roofing materials
Asphalt & composite shingles
Wood shakes
Clay & concrete tile
Metal roofing
Flat & rubber roofing
Slate roofing
Every roof needs to be replaced eventually, whether because of severe damage or an expiring warranty. There are a few key reasons homeowners typically get a roof replacement:
Severe damage: This is the most common reason for roof replacement, and it's usually caused by a storm or a falling tree. If you have a major roofing problem, we can provide complete replacement and weatherproofing, protecting your home from leaks, wind damage, and other issues.
Repeated repairs: Different roofing materials have different lifespans, but all roofs eventually need replacement. If you frequently have issues like sections of broken shingles or small leaks and have repeatedly repaired your current roof, it's probably time for a replacement. We can evaluate your roof and recommend the best solution for your home.
Expired warranty: Another common reason for roof replacement is an expired warranty. A roof that is past warranty not only is no longer effectively protecting your home but is putting you at risk for a major expense if unexpected damage happens. When your roof's warranty is up, don't hesitate to contact us for a replacement.
Aesthetic upgrade: Of course, a roof replacement doesn't always have to be the result of an unfortunate event. Many homeowners choose to replace their roof simply to improve their home's appearance and value. If you're updating your home's exterior, a roof replacement is a great way to further improve curb appeal and property value.
For all of your roofing needs, contact the roofing specialists at CheckMark Construction & Roofing today! We provide high-quality roof repairs and complete roof replacement throughout our service area in Missouri.
Looking for a price? Get a no cost, no obligation free estimate.